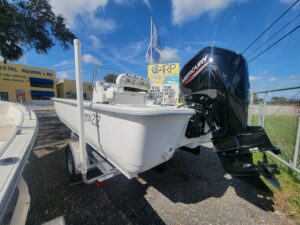 The 2023 212 Coastal Skiff has a very wide beam which makes for a very stable boat even with a full load.
It is a flat bottom hull with a little vee at entry which keeps you dry.
This hull has a very shallow draft and is perfect for fishing or island hopping.
We are open 7 days a week to come check it out.
~ Ask for Apryl in boat sales.
Length-21'2″
Beam-98″
Draft-6″
Mercury HP-115
Max persons-12
Max capacity-2405lbs
Weight-1600lbs